Just what you've been waiting for… 20% OFF
First BOTW promo in months… and it works in the BOTW Directory, the BOTW UK & Ireland Directory, and the BOTW Blog Directory. If you've been waiting for a break, here's your chance to submit to one or all of these premium directories at a substantial discount.
This is UNLIMITED thru End of Month
You may use this for multiple site submissions, submissions to multiple directory products, or any combination of multiple and submit you want. As long as it's still February 2011 and you're submitting to the directories named above, this discount code works. Nice eh?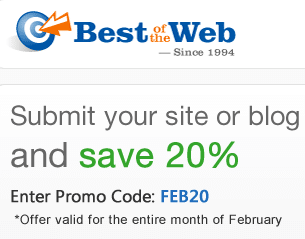 Procedure to Submit Site
To submit your site for consideration, go to the appropriate category in the directory to which you're submitting and click on the link at upper right that says "Submit Site". Follow the prompts from there. If you need a hand picking the best category, you'll find some tips here: Selecting a Category When Submitting.
Be sure to enter the Promo Code: FEB20
This discount program IS commisionable for BOTW resellers, so resellers, we look forward to working with you on these.
Note to Serial Procrastinators:
Don't feel bad, I never started my homework on time either. Why waste a good weekend when there's Sunday nite? Figured it's worth mentioning February is only 28 days long…  plan accordingly. [Yeah, having an odd month in the year is evil, but nobody asked me.]
That's all the news that's fit to print. You guys have a great week, and get those submissions in while they're cheap. 🙂