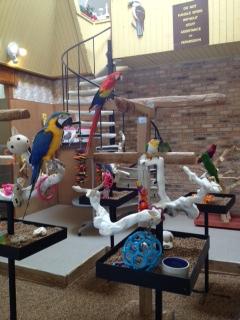 Kookaburra Bird Shop, LLC
1845 E Frankford Rd
Carrollton, TX 75007 US
Categories
About Kookaburra Bird Shop, LLC
Kookaburra Bird Shop, LLC is dedicated to keeping pet birds happy & healthy both physically & emotionally. We have over 30 years experience doing just that. Wether you get a baby bird from us or adopt an adult bird, we have the knowledge and experience to help you with your feathered friend's needs.
---
---
Services We Offer
Bird, dog, & cat boarding, parrot training, parrot trimming, all kinds of bird food, cages, & supplies.
---
Business Details
| No. of Employees | No. of Locations | Year Founded |
| --- | --- | --- |
| 3 | N/A | 1979 |
Jane Sullivan

I saw this shop on Facebook and saw all the people having their photos with Miranda and had to stop in. First thing you will notice is how clean this shop is! Amazing parrots and the staff helped me and I had my photo taken with Miranda. I am now shopping for all my parrot's stuff here. Love local shops!