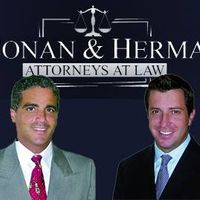 Conan and Herman
207 E. Livingston St. Suite A
Orlando, FL 32801 US
Categories
Bronze Level Sponsor
About Conan and Herman
At The Law Office of Conan & Herman, P.A., we have been providing high-quality criminal defense services since 2023. Our team of experienced attorneys has over forty (40) years of combined experience in the area of criminal law and is dedicated to fighting for the results that our clients want and deserve. We are accessible and available 24/7 to represent you throughout your entire criminal case, ensuring the best possible outcome. Contact us now for a free consultation and proven methods to ensure peace of mind.

---
---
Services We Offer
At The Law Offices of Conan & Herman, P.A., we specialize in providing high-quality legal representation in various criminal cases including DUI/DWI, drug offenses, sex offenses, white collar crimes, violent crimes, theft crimes, federal crimes, probation violations, juvenile offenses, and more. Our experienced attorneys have a broad knowledge of criminal law and are well-equipped with the necessary resources to provide strong representation in court. We understand how a criminal record can drastically impact your life and will always strive to obtain the best results possible for your case. With 24/7 availability, we are here to answer all your questions and provide you with personalized legal counsel from day one.

---
Business Details
| No. of Employees | No. of Locations | Year Founded |
| --- | --- | --- |
| 30 | 4 | 2022 |
---
Hours of Operation
Day
Opens
Closes
Sunday
Open 24 hours!
Monday
Open 24 hours!
Tuesday
Open 24 hours!
Wednesday
Open 24 hours!
Thursday
Open 24 hours!
Friday
Open 24 hours!
Saturday
Open 24 hours!
---
Detailed Business Description
The Law Office of Conan & Herman, P.A., is a criminal defense law firm based in Central Florida, providing services to clients throughout Lake County and Orlando. With over forty (40) years of combined experience in the area of criminal law, our experienced attorneys are dedicated to obtaining the best possible results for any person accused of violating any criminal law in Central Florida. Our commitment to our clients is unparalleled, and we strive to provide excellent representation with meticulous attention to detail and aggressive advocacy. We understand the importance of selecting the right Lake County or Orlando Criminal Defense Lawyer to fight for your constitutional rights and will always fight for your defense as if it were our own.

---