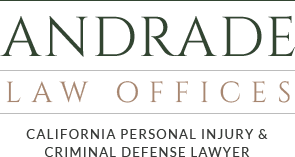 Andrade Law Offices
211 Equestrian Ave
Santa Barbara, CA 93101 US
Categories
Silver Level Sponsor
About Andrade Law Offices
Andrade Law Offices has served Central and Southern California citizens for over 35 years. Our staff of skilled attorneys, paralegals, and assistants work tirelessly to treat every case and every client with the respect and attention it deserves. It is not unusual for our lawyers to work on client cases on weekends, evenings, and even while they are on vacation. We do not work to a clock; we work the case, whatever it takes and wherever we are.

If you think you have a case, the best place to start is to visit our website and fill out a form, text us at +1 (805) 301-5999, or call our office at 805-962-4944. Our office never closes as our office phones ring to our cell phones, so we are available to our clients when they need us.
---
---
Services We Offer
Experienced Trial Lawyer Representation for Injury/Accident, Criminal Defense, and DUI Defense cases.
We offer FREE Consultations in the office, by telephone, and by Zoom. Whatever is most convenient for our clients. We offer touch-free document signing.
Hablamos Espanol
Payment Plans
Auto Accident & Personal Injury

Criminal Attorney

DUI / Drug Offenses
---
Business Details
| No. of Employees | No. of Locations | Year Founded |
| --- | --- | --- |
| 5 | 1 | 1987 |
---
Hours of Operation
Day
Opens
Closes
Sunday
Open 24 hours!
Monday
Open 24 hours!
Tuesday
Open 24 hours!
Wednesday
Open 24 hours!
Thursday
Open 24 hours!
Friday
Open 24 hours!
Saturday
Open 24 hours!
---
Media Gallery
---
Detailed Business Description
At Andrade Law Offices, we strive to provide excellent client experience. When it comes to personal injury cases and criminal law matters, it can be difficult to know what rights you have. The future may seem uncertain, and during these trying times, we want to provide the counsel you need to work toward a better future for yourself and your family. Our Santa Barbara criminal defense and personal injury attorneys are here to support and represent you through every stage of your case. You, our client, are the focus when you work with an attorney at our Santa Barbara law firm. We guarantee exceptional client service through every stage of your personal injury case or criminal defense matter.
---
Coupons & Specials
Free Consultations, Free Representation at DMV hearings for DUI Clients, Payment Plans Offered For Qualified Clients
---
---
Featured Site Links
Frequently Asked Questions about Andrade Law Offices
What can I expect when I call Andrade Law Offices for the first time?

Someone from our firm will answer your call and ask a few preliminary questions, such as your name, your telephone number, your email, and your email address. Then they will ask more detailed questions about your specific case. Once they have completed your intake, they will brief an attorney in the office, and if it is a case the firm will take, your call will be put through to an attorney.

Is my information protected by attorney - client privilege when I am talking to an assistant or paralegal?

Regardless of the role of the employee in Andrade Law Offices, all employees are bound by attorney-client privilege to protect the confidential information of potential clients and existing clients. In fact, unless we have received your permission to inform a caller that someone is a client of our firm, we cannot confirm or deny to anyone not authorized by the client in writing.

What happens to my file when a case is over?

Andrade Law Offices maintains paper files for Criminal and DUI clients on probation for the term of their probation, then scans the file and securely destroys the hard copies. We do not maintain hard copies of Personal Injury client files. However, all documents are scanned and may be shared with the client through some form of electronic file share upon request.
You May Also Consider
633 S Andrews Ave Suite 201
Fort Lauderdale, FL 33301 US
View Listing
633 W 5th St 26th Floor
Los Angeles, CA 90071 US
View Listing
Locations Close to Santa Barbara, CA
Showcasing Businesses Since 1994
Best of the Web is an online platform connecting businesses and consumers backed by our team of editors. Our team verifies every business, product, and service before it gets listed in our directory and offers everyone the peace of mind that the products and services they're looking for have been stamped as the Best of the Web.