Happy Valentine's Day
If that's a surprise to you, you're probably already in trouble.
Before you go hustle down to the local Target to wrestle the rest of the poor schlubs that forgot, just to win the last heart-shaped box of candy with the crease where it was hit by a forklift, maybe you should think outside the box of chocolates.
How about a gift that has less calories and more value?
No, not diamonds or something real expensive. Just never know if they'll appreciate the sacrifice. I mean, I went big last year… and my wife hasn't even *touched* the floor sander I got her. It was a really nice one too. Some valentines just don't appreciate the grand romantic gesture. Go figure.
Maybe you oughta shoot in the middle and get him/her something nice for the website, like a BOTW submission or two?
If that's something you'd like – Discount code is FEB20
Works on any of the following directories… BOTW Directory, the BOTW UK & Ireland Directory, and the BOTW Blog Directory. For details, see 20% Off BOTW Submissions.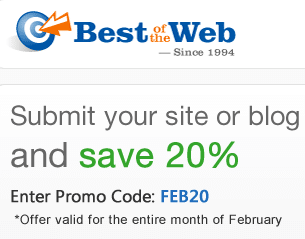 Whether you do it for your valentine or yourself…
Thought I'd mention we're at mid February, and the 20% off promotion expires at the end of the month.
Of course if you think it's a silly gift suggestion… don't blame me, I'm not the guy looking for gift ideas in the middle of the holiday. ;P
Y'all have a great valentines day. ~ Rob